Contact the 203k Contractor Program
The Office of the 203k Contractor Program
Mailing Address: 3116 S Mill Ave #234 Tempe, AZ 85282
Toll-free: 855-CALL-203k (855-225-5203)
Monday-Friday 9am-5pm AZ Time, closed Federal holidays
Complete the contact form below and the appropriate department will respond within one (1) business day.
 Click here for more information about a 203k CE Class for Realtors® – The Director of the 203k Contractor Program, Paul Welden, can speak at, attend or host your 203k Class for Realtors® (Real Estate CE credit approved in UT, CO, NJ, NV, IL & MD and can get CE approval in other states for your Realtor® partners).
For all other requests, please complete the contact form below.
Contact the Office of the 203k Contractor Program

___________________________________________________________________________________________________________________________________________________________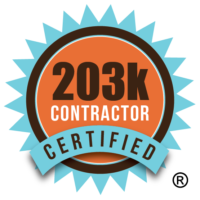 Copyright © 2006-2018