Preferred 203k Lenders
Click here to learn how to become a Preferred Lender of The 203k Contractor Program.
| | |
| --- | --- |
| | |
---
203k Lenders Search Results for the state of Ohio

AnnieMac Home Mortgage

NMLS #38670

Jeff Onofrio

Director of Renovation Lending

JOnofrio@Annie-Mac.comwww.AnnieMac203kLending.com

Office: (856) 505-6717 | Mobile: (609) 217-9409

700 East Gate Dr

Mount Laurel NJ 08054

---

Licensed in AR, AZ, CA, CO, CT, DC, DE, FL, GA, HI, IL, IN, KY, ME, MA, MD, MN, MO, MS, NC, NH, NJ, NM, NY, OH, OK, OR, PA, RI, SC, TN, TX, UT, VA, WA, WI, WV


Cherry Creek Mortgage

NMLS #3001

Jennifer Levine

National Renovation Loan Product Manager

JLevine@CCMCLending.comwww.cherrycreekmortgage.com/jlevinewww.cherrycreekmortgage.com

Office: (303) 331-4471

7600 E Orchard Rd

Greenwood Village CO 80111

---

Licensed in AL, AZ, AR, CA, CO, CT, FL, ID, IL, IN, IA, KS, LA, MD, MI, MN, MT, NE, NV, NJ, NM, OH, OK, OR, PA, SC, TN, TX, UT, WA, WI, WY. Cherry Creek Mortgage is powered by people who earn the trust of clients and partners through expertise and personal attention. Please contact Jennifer Le >>>


Would you like to search again?



---
203k Real Estate Agents
Click here to Recommend a contractor to be Certified for the FHA 203k Loan (click for pop-up form).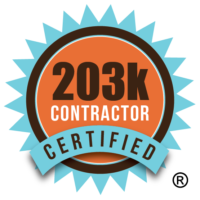 ________________________________________________________________________________________________________________________________
Copyright © 2006-2018