Preferred 203k Lender Application
There is no fee to be listed as a Preferred 203k Lender but minimum requirements must be met to ensure the integrity of the services provided.
Read the information on this page and then complete the form at the bottom of this page.
Benefits

:
Free listing on the 203k Contractor Directory as a Preferred 203k Lender and possibly on other pages (see options below)


Free access to the marketing benefits and pieces provided by the 203k Contractor Program

Customizable 203k Brochures & Flyers, 203k Offer Cover Letter (for Realtor® partners, event sponsorships (i.e. NAMB 2011 Conference in Vegas), 203k Power Point presentations,

203k CE Classes for Realtors®

, etc.

Free instant notification when new Certified 203k Contractors become available in your business areas

Information displayed to thousands of visitors each month who are seeking 203k information (see statistics below)

Close more business by partnering with Certified 203k Contractors

Direct connection with Certified 203k Contractors in ~35,000 cities in 39 states (current as of January 2017)


Free support and marketing assistance with anything FHA or 203k related

Free assistance regarding the actions of any Certified 203k Contractor



Requirements

:



Must be an FHA Approved Mortgage Lender

Must hold the position as National/Regional Director of Renovation Lending (or equivalent) for your mortgage company. 

Extensive 203k experience must be verified by multiple 203k borrowers, REALTORS® and/or 203k Consultants

Partnering with the 203k Contractor Directory entitles lenders to receive either option 1 or 2:

Receive 1 free listing on the 203k Lenders page

 

Must have reciprocal link on your site or partner specific URL landing page

Receive free listings on other pages by referring minimum 1 contractor who earns designation as a Certified 203k Contractor

Free page listings include: 203k Lender page, Education Portal pages, Contractor Renewal pages for each contractor and hundreds of Certified 203k Contractor marketing pages

Lenders approved for this listing option will have their contact information sent for free to every contractor that becomes a Certified 203k Contractor for the states where the lender is licensed.

Lender needs to be licensed in and able to originate 203k's in all or many US States

Preferred Lender applicant for option 2 will hold position of Director of Renovation Lending or similar position or have authorization from company headquarters to be listed as point of contact for their company for the 203k Contractor Certification Program 
Statistics
(annual as of 1/1/2017):
~178,000 annual site visitors

~88,000 annual unique site visitors

~312,000 annual pageviews

~8.25 minutes average time on site per visitor


~5 pages viewed per visit per visitor
Complete the form below to request consideration as a Preferred 203k Lender Partner of the 203k Contractor Program.
Questions, comments or concerns may be addressed by using the Contact page or by calling the 203k Contractor Program toll-free at 855-CALL-203k.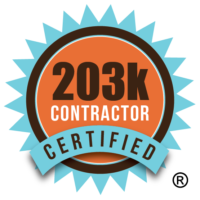 Preferred 203k Lender Application
Please enter the information below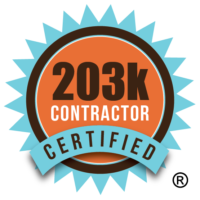 ---
                                                                                                                        
Copyright © 2006-2018