Contractor Login
This section is for the exclusive use of the contractors listed below who are either in the process of education/certification or renewal.

Contractors who have completed the education/certification or renewal requirements are no longer listed on this page but rather can access their Contractor Portal page directly (see emails sent to you with subject line "203k Marketing Materials" and "Message from the Director")

.

Scroll down to locate your company.

Then click on your company name and enter the password that was provided to you.


If your company is not listed below or you need assistance, please click this link to

contact

 

the 203k Contractor Program or call toll-free (855) CALL-203k.
---
Complete Home Design & Construction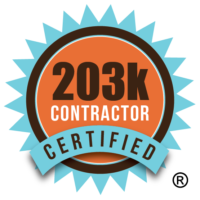 ___________________________________________________________________________________________________________________________________________________________________________________________________  
Copyright © 2006-2018