Certified 203k Contractor Search
203k Contractor Search Results for Beltsville, MD
Basement Waterproofing
AP Home Improvement

Contact: Alfred Pitts

Email:

aypitts@verizon.net

Web:

www.APhomeimprovementdc.com

Phone: (202) 258-3994

5605 Chesterfield Drive

Temple Hills MD 20748

---

Certification valid until 9/16/2018. Fourth year as a Certified 203k Contractor.


BroCAR Renovations

Contact: Ckori Jones

Email:

203k@brocarrenovations.com

Web:

www.BroCARrenovations.com

Phone: (240) 324-4663

8787 Branch Ave

Clinton MD 20735

---

Certification valid until 5/13/2018. Third year as a Certified 203k Contractor. Masonry & Concrete, Carpentry, Flooring, Roofing, Drywall, Mold Remediation, Aluminum Siding Wrapping, HVAC Service, Electrical, Bath & Kitchen Renovations, Basement Waterproofing (lifetime warranty), Lead Paint Renovations. Recognized by the EPA as a lead safe renovator


Tito Contractors

Contact: Maximo Pierola / Don Donaldson

Email:

info@titocontractors.com

Web:

www.TitoContractors.com

Phone: (202) 291-2255

7308 Georgia Ave NW

Washington DC 20012

---

Certification valid until 4/23/2018. General Construction, Building Maintenance, Painting, Masonry, Electrical, REmodeling, VCT & Ceramic Tile, Caulking, Brick & Block Concrete, Snow Removal, Roofing, Bathroom & Kitchen Remodeling


Potts Construction & Design Group

Contact: Derek Potts

Email:

pottsconstruction@verizon.net

Web:

www.GoPottsConstruction.com

Phone: (301) 256-7060

P O Box 1748

Beltsville MD 20704

---

Certification valid until 10/31/2018. Eighth year as a Certified 203k Contractor. We are a full service home renovation company with extensive 203k experience. We specialize in whole house renovations, kitchens, bathrooms, basements, additions, waterproofing, painting and much more. Give us a call. "We are serious about service."


Billings Construction

Contact: Charles Billings

Email:

billingsconstructionmd@gmail.com

Phone: (240) 603-4634

PO Box 901

Riverdale MD 20738

---

Certification valid until 5/17/2018. Fifth year as a Certified 203k Contractor. We are a complete home renovation company with 203k experience. From designing to building, our craftsmanship is top of the line. We will meet all requirements necessary for customer satisfaction. We listen carefully so we can fully understand your home renovation needs.


House Pros

Contact: Rob Bostick

Email:

Rob.Bostick@gmail.com

Web:

www.HouseProsOnCallMD.com

Phone: (443) 394-6946

1311 N Woodyear Street

Baltimore MD 21217

---

Certification valid until 9/17/2018. Third year as a Certified 203k Contractor. Full Service Home Improvement Contractor able to meet all of your 203k needs. Offering free estimates with a 48 hour turn-around time or less.

Would you like to search again?
For further assistance, use the map on the Homepage or call the 203k Contractor Program at 855-CALL-203k or use the Contact Form.
The 203k Contractor Directory for the FHA 203(k) loan program serves the following areas: Alabama, Alaska, Arizona, Arkansas, California, Colorado, Connecticut, Delaware, District of Columbia, Florida, Georgia, Hawaii, Idaho, Illinois, Indiana, Iowa, Kansas, Kentucky, Louisiana, Maine, Maryland, Massachusetts, Michigan, Minnesota, Mississippi, Missouri, Montana, Nebraska, Nevada, New Hampshire, New Jersey, New Mexico, New York, North Carolina, North Dakota, Ohio, Oklahoma, Oregon, Pennsylvania, Rhode Island, South Carolina, South Dakota, Tennessee, Texas, Utah, Vermont, Virginia, Virgin Island, Washington, Washington DC, West Virginia, Wisconsin, and Wyoming
Disclaimer of Liability
203kContractors.com® hereby disclaims any and all liability for any product or service offered herein and 203kContractors.com® makes no warranties, express or implied, with respect to any product or service offered. Your participation with any of the companies is strictly voluntary and is solely between you and the offerer of the product or service. Nothing herein shall be deemed to be an approval, endorsement or recommendation of product or service. The designation of the Certified 203k Contractor does not represent and should not be construed as a guarantee or certification of the quality or fitness of the designation holder's work product. The conferral of a designation represents only the affirmation that the individual designation holder has completed the stipulated requirements of the respective designation program. Although 203kContractors.com® tries to ensure that all information, whether in relation to the products, services, offerings or otherwise ("Information") is correct, 203kContractors.com® does not guarantee the accuracy of the Information and makes no representations or warranties as to the completeness or accuracy of the Information. You agree that 203kContractors.com® shall not be responsible or liable for any loss or damage of any sort incurred as the result of any business dealings you have with the offerer of any product or service.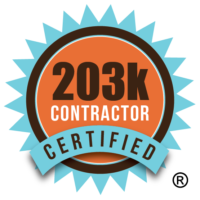 _________________________________________________________________________________________________